Introduction
Are you aspiring to kickstart your career with one of the top IT companies? Look no further than TCS (Tata Consultancy Services) and their NQT (National Qualifier Test). TCS NQT is a golden opportunity for freshers to enter the world of IT and embark on a rewarding journey. In this comprehensive guide, we will walk you through the steps to excel in TCS NQT and secure a position in this prestigious organization.
Tata Consultancy Services has officially announced the commencement of the TCS NQT Exam for 2023. The selection process for the TCS NQT Exam unfolds in four pivotal stages, namely: Online Test, Technical Interview, Managerial Interview, and the concluding HR Interview. Similar to the structure of other competitive exams, each phase within the TCS NQT Exam 2023 selection procedure stands as an independent qualifying round. To progress to the subsequent phase, candidates are required to meet the TCS NQT Cut-Off Marks, underscoring the significance of securing a comprehensive preparation approach.
In the ensuing discourse, we will furnish you with meticulously crafted subject-specific strategies that have the potential to significantly amplify your readiness for the TCS NQT Exam 2023. Read on to discover an exhaustive compilation of TCS NQT Exam 2023 Preparation Tips.
Given the finite availability of vacancies for the TCS NQT Exam, it becomes imperative to devise a preparation strategy that not only ensures effective learning but also positions you favorably in the impending assessment. It is crucial to note that all applications must be submitted through the online mode, utilizing the NextStep Portal of TCS.
Within this comprehensive guide, we will delve into the essential preparatory actions, delve into subject-oriented planning, and culminate by underlining the pivotal role that mock tests play in refining your performance for the TCS NQT Exam. Additionally, it provides guidance on preparing for campus placements, offering valuable insights.
1. Understand TCS NQT
Begin by familiarizing yourself with TCS NQT. It's an assessment designed to evaluate your skills in various areas such as aptitude, programming, and technical knowledge. Research the test pattern, syllabus, and marking scheme to get a clear picture of what to expect.
2. Eligibility Criteria
Before you dive in, ensure you meet the eligibility criteria. TCS NQT is typically open to candidates who have completed their degree in the past couple of years or are in their final year of graduation.
3. Online Registration
Visit the TCS official website and navigate to the NQT section. Create an account if you don't have one and log in. Complete the registration process by providing accurate personal and academic details.
4. Application Form
Fill out the application form with care. Double-check the information you provide, as any mistakes could lead to complications later on. Make sure to include relevant keywords like "TCS NQT 2023," "TCS career," and "TCS recruitment" in your application.
5. NQT Syllabus and Preparation
Gather information about the syllabus for TCS NQT. It usually includes aptitude, programming logic, coding, and technical MCQs. Utilize online resources, study materials, and practice tests to hone your skills. Incorporate keywords like "TCS exam" and "NQT" while searching for preparation materials.
The initial step in preparing for the TCS NQT Syllabus 2023 examination involves gaining a comprehensive understanding of the syllabus. This online test requires candidates to allocate three hours of their time and tackle a total of 92 questions. During this online assessment, candidates will be assessed on their proficiency in coding and programming skills.
6. Knowing the Exam Pattern of TCS NQT
Below is the TCS NQT Exam Pattern for 2023 presented in a table format: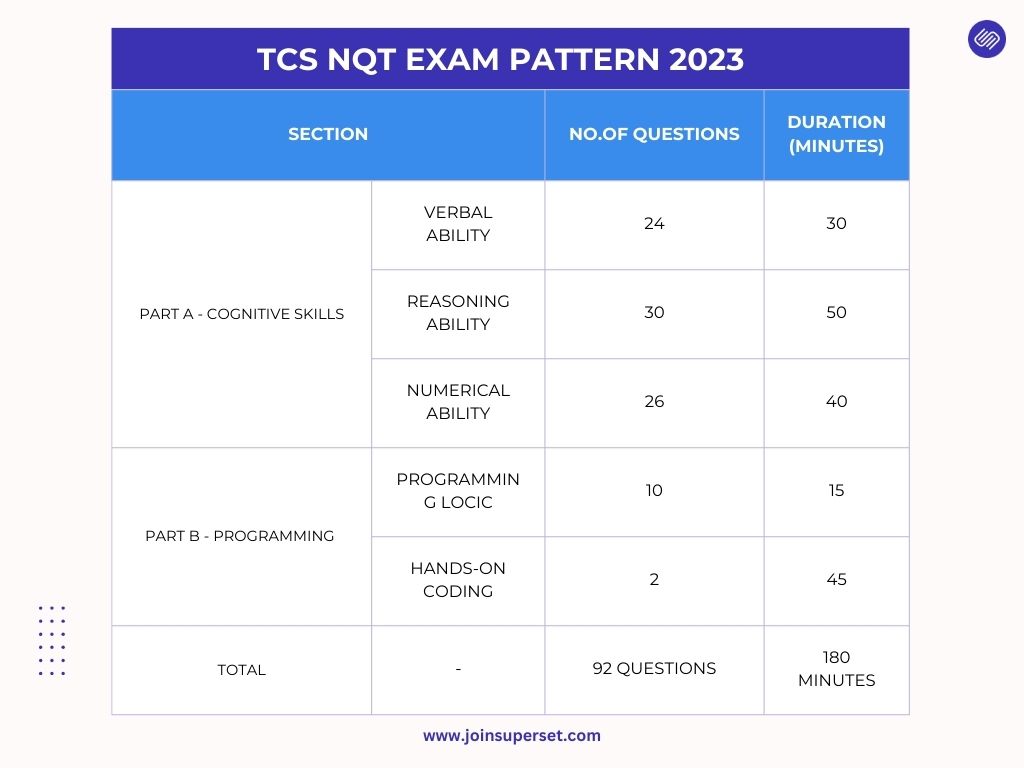 7. Explore the TCS NQT Cut Off of Previous Years
Candidates are strongly encouraged to review the TCS NQT Cut-offs as a means of gauging the necessary scores for advancing through each stage of the selection process. An effective strategy is to attempt the TCS NQT Previous Year Paper and subsequently compare the outcomes with the cut-off scores. This approach facilitates a comprehensive self-assessment, allowing candidates to identify their areas of strength and weakness. Armed with this insight, candidates can engage in a more targeted and structured study plan, concentrating their efforts on areas in need of improvement.
8. Practice Mock Tests
Practice makes perfect. Engage in mock tests to simulate the exam environment. Focus on time management, as TCS NQT is known for its challenging time constraints. This will also help you familiarize yourself with the online exam platform.
9. Strengthen Programming Skills
Given the emphasis on programming in TCS NQT, work on improving your programming skills. Focus on languages like Java, C++, and Python. Incorporate keywords like "TCS jobs for freshers" and "TCS NQT 2022" while searching for programming resources.
10. Advanced TCS NQT Preparation Tips: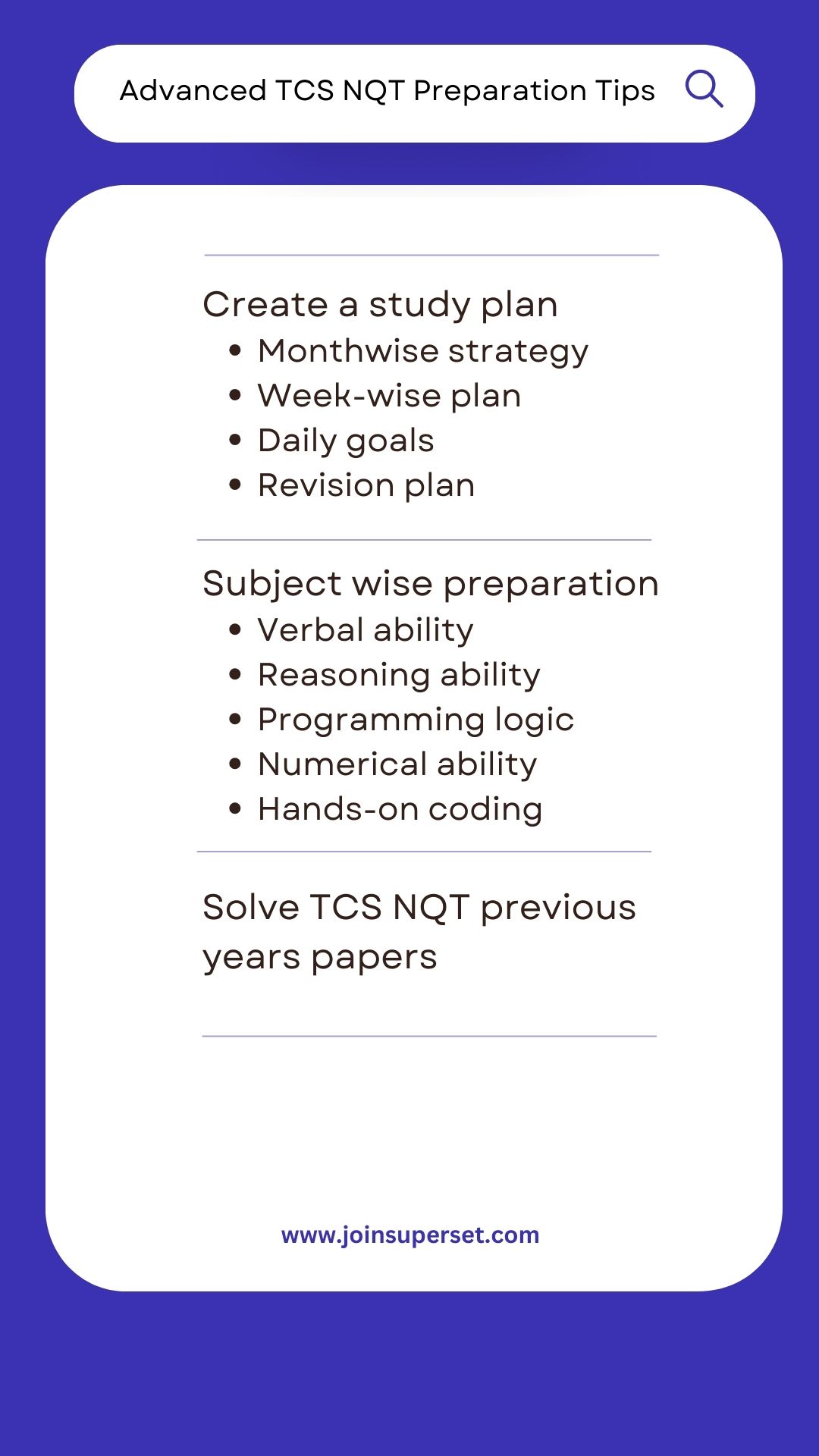 Step 1: Create a Study Plan
Building a well-structured study plan is crucial for TCS NQT preparation. Here are some key points to consider:
Month-wise Strategy
Plan your study schedule by dividing it into months. Identify the topics you want to cover each month.
Week-wise Planning
Further, break down your monthly goals into weekly targets. Use weekends for revising the topics covered during the week.
Daily Goals
Set daily study goals to stay organized and ensure you cover all important areas.
Revision Plan
Create a revision plan to review all topics and complete the entire TCS NQT syllabus before the exam date.
Step 2: Subject-wise TCS NQT Preparation Tips for Online Exam
Verbal Ability
Focus on improving your linguistic skills and communication.
Practice reading comprehension, vocabulary, and grammar exercises regularly.
Reasoning Ability
Practice puzzles, seating arrangements, and other logical reasoning exercises.
Solve different reasoning ability papers to understand question patterns.
Programming Logic
Master your programming language skills.
Solve previous year papers (PYPs) to identify common topics and practice accordingly.
Numerical Ability
Ensure comprehensive coverage of important topics mentioned in the syllabus.
Practice numerical problems regularly to enhance your numeric ability.
Hands-on Coding
Strengthen your programming skills by practicing coding problems.
Solve PYPs to familiarize yourself with the types of coding questions typically asked.
Step 3: Solve TCS NQT Previous Years Papers
Solving previous years' question papers and sample papers is essential.
It helps you understand the exam pattern, question types, and difficulty levels.
Provides insights into time management and question-solving strategies.
Additional Tips
Allocate specific time slots for each subject and stick to your study plan.
Mock Tests
Take full-length mock tests to simulate exam conditions and improve your time management skills.
Self-assessment
Regularly assess your progress, identify weak areas, and adjust your study plan accordingly.
Interview Preparation
After clearing the written exam, focus on interview preparation. Brush up on technical concepts, practice coding questions, and improve your communication skills.
Stay Healthy
Maintain a healthy lifestyle with proper diet and exercise to stay mentally and physically fit during your preparation.
Incorporate these advanced TCS NQT preparation tips into your study routine, and stay dedicated to your goals to increase your chances of success in the TCS NQT Exam 2023. Good luck!
11. Stay Updated
Stay informed about the latest updates regarding TCS NQT. Keep an eye on their official website and notifications to get details about exam dates, admit cards, and other essential information.
12. Admit Card and Exam Day
Once your admit card is released, download it and ensure all details are correct. On the exam day, reach the venue well in advance. Carry your admit card, a valid ID, and any other documents required.
13. Post-Exam Process
After the exam, patiently wait for the results. If you qualify, you'll be eligible for further rounds, such as interviews. Prepare for technical and HR interviews by showcasing your skills, experiences, and passion for joining TCS.
Conclusion
TCS NQT is your gateway to a fulfilling career at Tata Consultancy Services. By following this step-by-step guide and incorporating relevant keywords like "TCS jobs" and "TCS NQT login," you can enhance your chances of success. Remember, preparation and dedication are the keys to unlocking the doors of opportunity at TCS.