Introduction
Are you one of those recruiters who ponder over some really tricky questions pertaining to hiring?
How do I hire freshers with the best talents within such a short time?
How will I arrange interviews, analyse the resumes, and shortlist the best candidates in a week's time?
What if I make the wrong entry level hiring?
Well, you don't have to worry anymore! With Superset's Interview Week, the hiring process becomes as smooth as a dollop of butter sliding on a pan! Starting from finding the right candidates to analysing their resumes, from setting up interview calls to making sure that the hiring process comes to an end on a smooth note, Superset takes care of everything.
I am quite sure that you're pretty confused about how this amazing process actually works. Well, worry not! In this blog, we'll get into the depths of how Superset brings a unique approach to the table and helps identify the perfect fit for the position. In addition to these, we'll also bring you some nitty-gritty of the benefits that companies and students get from these interview weeks.
Now, if you're curious about how to take full advantage of our interview weeks and make sure that your company only gets the best candidates, then read along!
Before getting into the nitty-gritty of how this super-fast yet efficient system comes into play, let's first understand the people who can benefit from the use of Superset's Interview Week.
Multiple Domain Hiring: If you're looking for candidates across multiple domains like Technology, Analytics, Sales, HR, Operations, Customer Support, etc., then Superset is right here to lend you a helping hand. With some superfast connections and reliable resources, we'll make sure that you hire the best talents.
Immediate Requirement: If you're worried about making an immediate requirement where you just have a week's time in your hand, then Superset will make your work much easier. And believe us when we say- "We've got your back!"
Hassle-Free and Time-Saving Hiring Process: Well, this might be quite obvious by now! We offer you a hassle-free hiring process where you won't even have to leave your desk or make any phone calls to get the best talents for your company. Without any geographic boundaries or travel expenses, you'll simply need to do one thing: trust us!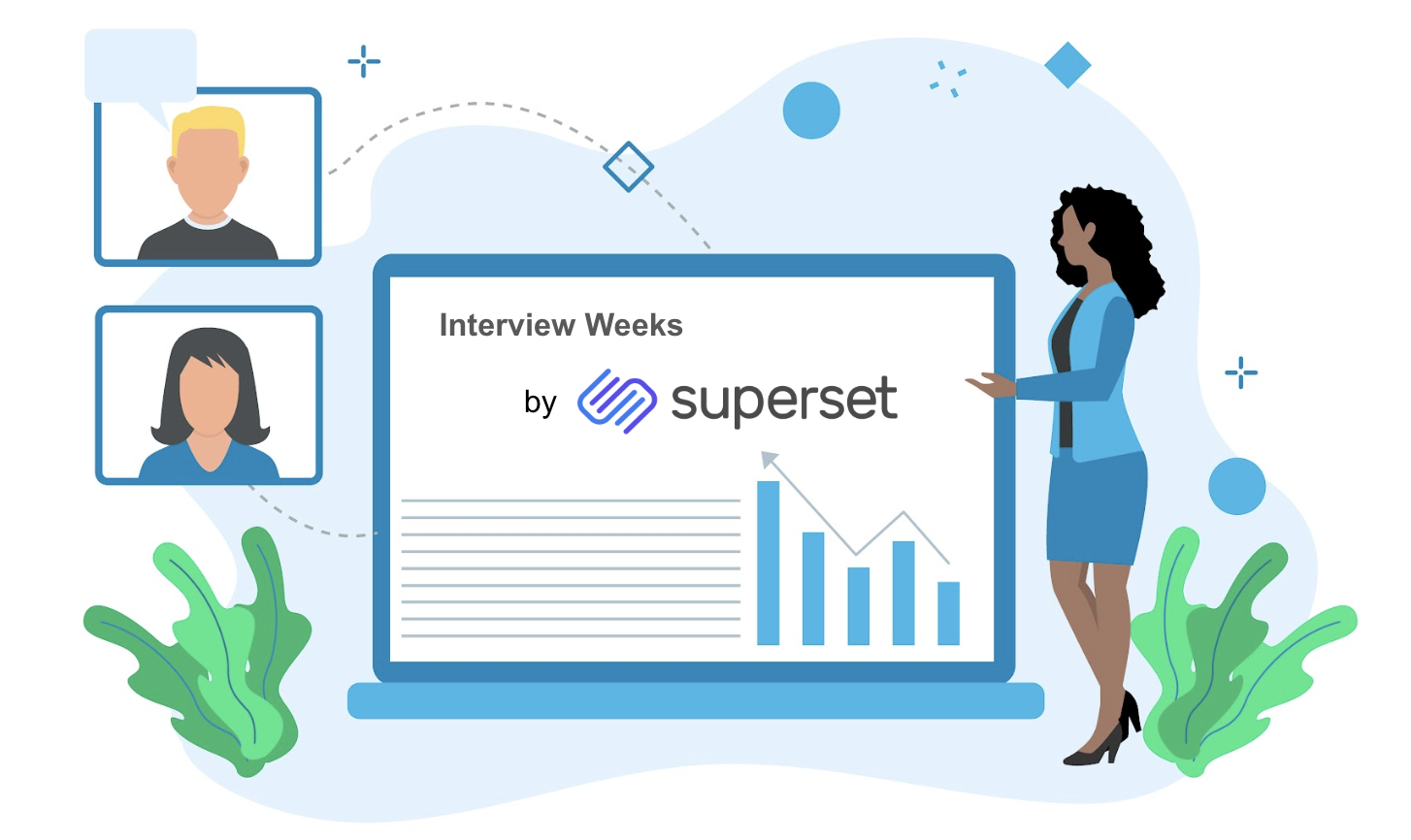 Interview Weeks By Superset
How Did Superset Come With Such A Unique Solution?
Keeping in mind the requirements of different companies and businesses, Superset has come up with a unique solution for Fast-Paced Interview Week. The process of hiring candidates for your company becomes much easier and less hassle with just three simple steps. However, when we look at the regular hiring process, there are numerous challenges that recruiters might face:
Finding the source from which candidates are hired is a real hassle.
Making the candidates aware of the opportunity that your company is offering might require you to go to them physically.
Analysing hundreds of resumes and then shortlisting candidates from them can be a really long process.
Once shortlisted, arranging interview meetings can also take a lot of time.
Lastly, if a candidate is hired, the entire process of onboarding them is also a hassle.
How does Superset Interview Week work?
To ensure that companies don't go through these challenges, Superset has introduced a simple 3-step process that can make the hiring process pretty smooth and hassle-free:
Step 1: Take Off with Our Hiring Success Managers
The first step in getting started with Superset's Fast-Paced Interview Weeks is to advertise your employment needs on our website. Our Hiring Success Managers will get on board to assist you through the process and ensure you're on the right road. Whether you need assistance creating the ideal job package or determining the appropriate duties for your prospects, our staff is here to help you every step of the way.
Step 2: Obtain a VIP Shortlist Containing Extensive Assessment Data
Following that, our team of talented experts will get to work on identifying the best candidates for your position. We employ a thorough evaluation procedure to guarantee that each applicant on your shortlist has the necessary skills, experience, and personality for your organisation. You may save time and focus on individuals who actually have what it takes to succeed in your organisation by using our VIP shortlist.
Step 3: Give Your Interviewers the Red Carpet Treatment
It's time to get down to business and interview the best of the best. Simply send us your interviewer list and time slots, and we'll handle the rest. Our video call interviews enable you to examine the candidate's technical knowledge while also getting a sense of their personality and communication abilities. And if you like what you see, you may extend the contract and bring them on board!
Why Should You Opt For Superset's Interview Week?
Here are a few reasons that might tell you why you should opt for Superset's Interview Week and not go for the traditional hiring system:
1. Guaranteed, Hassle-Free 1-Week Hiring
Say goodbye to the time-consuming and laborious hiring procedure! You may submit your job description and let our staff handle the rest with Superset's Fast-Paced Interview Weeks. You'll have a custom-mapped pool of 5-10 from before-assessed, before-screened, and interview-ready applicants to pick from in just one week. Simply log in to your Superset account and then conduct interviews with the last applicants on your list. There will be no more trouble or waiting; only speedy and successful recruiting.
2. A Large Pool of Pre-Screened Candidates
Superset has a comprehensive pool of pre-assessed and pre-interviewed applicants from over 24,000 institutions and off-campus talent pools, totaling 10 million people. Our automated interview procedure guarantees that each candidate is properly evaluated before applying to your organisation. You may be confident that the applicants you interview are an excellent match for your job criteria.
3. Complete Interviews in Record Time
You may execute an automated interview drive using Superset's cutting-edge driving simulator, saving recruiting managers up to 65% of the time spent organising and managing interviews. There will be no more wasting time looking for vacancies, organising calendar invitations, waiting for answers, cancellations, or rescheduling. Our automated interview approach speeds up the recruiting process, allowing you to focus on operating your business.
4. Spend less Money, Time, and Effort
Interview Weeks by Superset not only save you time but also money and effort. Outreach and sourcing, shortlisting notifications, application data monitoring, scheduling, and performing assessments, candidate quality, and interview management are all handled by our platform and staff. You may save on HR time and hiring process costs, freeing up resources for other elements of your organisation.
Say goodbye to the old-school recruiting process and welcome to speedy, effective, and hassle-free hiring with Superset's Interview Weeks. So, why delay? Sign up today and allow us to assist you in finding your next great employee or an entry level hiring.
How Can You Prepare For Superset's Interview Week?
If you're wondering how to go along with the interview weeks by Superset? Well, here's a checklist at your doorstep that you can tick off as you clear every step in our online recruitment management software.
Be clear on your hiring needs:

Identify the key skills and qualifications required for the position.
Clearly define the job responsibilities and expectations.
Determine the budget and compensation package for the position.

Post your job requirements on Superset's platform:

Clearly articulate the job requirements, responsibilities, and qualifications.
Provide any additional details that may be important for potential candidates to know.

Prepare your interviewers:

Provide a list of interview questions that will help assess the key competencies required for the position.
Train interviewers on how to assess candidates efficiently and effectively.
Ensure that all interviewers understand the timeline and schedule for the interview week.

Streamline your hiring process:

Create a clear checklist of the key steps in the hiring process.
Determine the timeline for each step in the process.
Assign specific tasks and responsibilities to team members to ensure efficiency.

Review and assess candidate profiles:

Review and assess the candidate profiles that are shortlisted by Superset.
Identify the top candidates that meet your requirements.
Create a list of the candidates you want to interview during the interview week.

Schedule interviews:

Determine the availability of your interviewers and create a schedule for interviews.
Communicate the interview schedule to all candidates in a timely manner.
Ensure that all interviewers have access to the necessary tools and equipment for video interviews.

Conduct interviews:

Use the pre-prepared interview questions to assess the candidates.
Take notes during the interviews to facilitate decision-making.
Assess the candidate's fit with the company culture, job requirements, and team dynamics.

Make job offers:

Review the assessment data of the top candidates and determine the best fit.
Make job offers to the chosen candidates in a timely manner.
Communicate the job offer terms and conditions clearly.

Follow up:

Conduct a feedback session with your interviewers to assess the effectiveness of the interview process.
Follow up with the new hires to ensure they have everything they need for a smooth onboarding process.
Celebrate your fresher hire with your team!
Success stories
Some of our clients who have opted for Superset Interview Week say:
Superset is by far one of the most able, professional organisations and my experience with them was very much a positive one. The speed and passion with which the team works is commendable while specialising in Fresher recruitment. They also value the customer's relationship and have supported team Onmobile with most difficult roles with minimal turnaround time. The bottom line is that they make sourcing and head-hunting easier and help in getting to the right candidates faster. A big shout out to team Superset and looking forward to many more collaborations!

Sindhuja A., OnMobile Global Limited
Interview weeks took away all our work of going through resumes, calling, and hiring Candidates. It sourced the right candidates for the job and the speed of the Superset team's response to our concerns and queries is highly appreciated. Very happy with their diligence and hard work.

Affan Mallick, Founder and CEO at Thinklance Edutech
Conclusion
Interview Weeks by Superset simplify the hiring process, making it faster, more efficient, and more successful than ever before. With our team of specialists on your side, you can sit back, relax, and watch the top applicants flow in. So, what are you holding out for? Prepare to set sail for victory with Superset!