Introduction
Job interviews can be nerve-wracking, especially for candidates with no prior experience. However, with the right interview skills, preparation, and mindset, you can confidently tackle any interview and land your dream job. In this article, we'll explore nine commonly asked interview questions for freshers jobs and provide you with expert answers and interview tips to help you ace your next interview.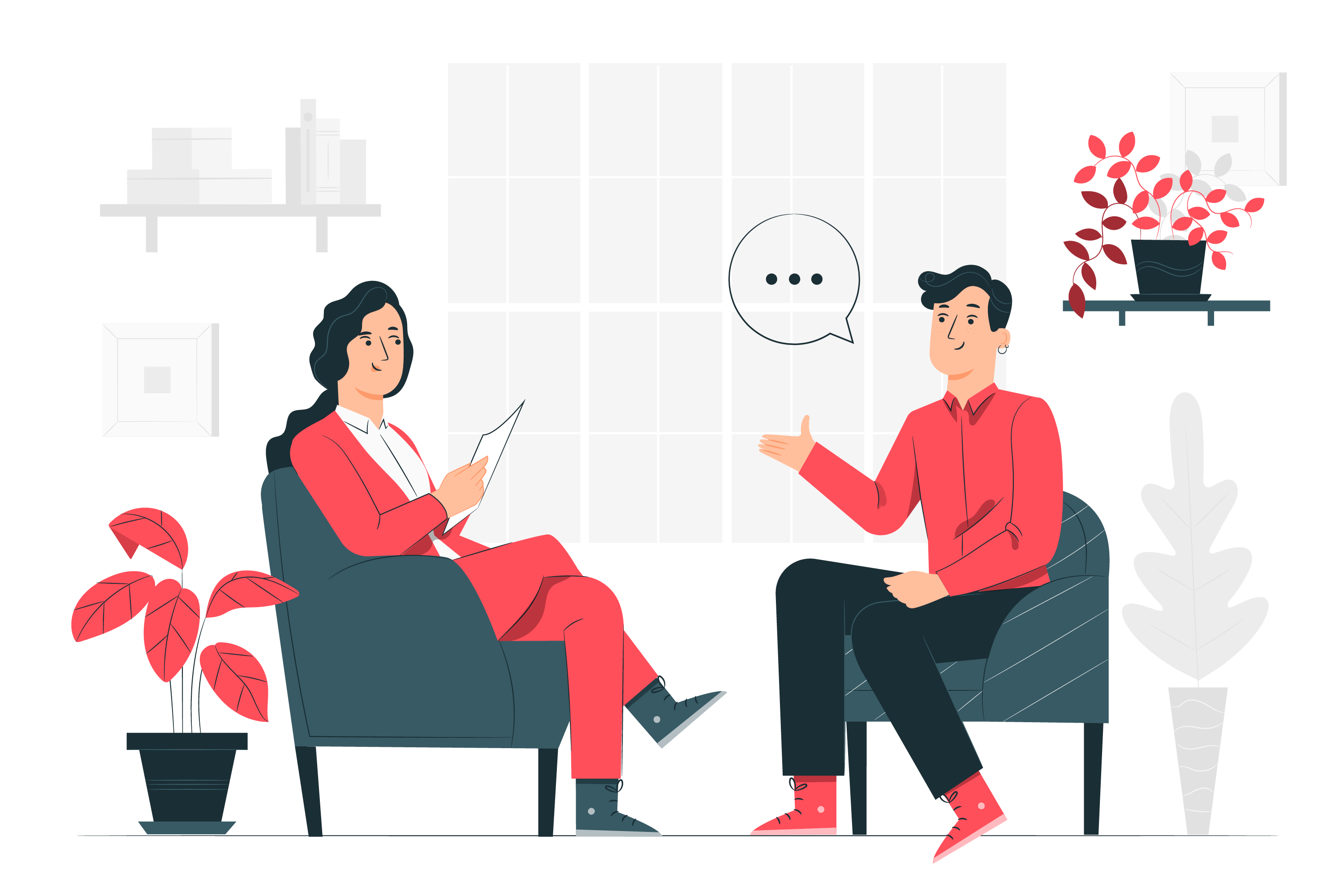 Common interview questions and answers
Question 1: "Tell me about yourself."
This seemingly basic question frequently surprises applicants. Focus on important abilities and attributes that make you a great candidate while crafting a compelling answer. Highlight any talents earned through extracurricular activities, education, or personal projects that are transferable. Avoid rambling or oversharing personal information.
Question 2: "Why do you want to work for this company?"
Before the interview, extensively research the firm to grasp its values, mission, and culture. Align your own ambitions with those of the organization, and emphasize your excitement for the sector or subject. Showcase your desire to learn and progress within the organization.
Question 3: "How do you handle challenges or difficult situations?"
Employers want to assess your problem-solving abilities and capacity to remain calm under pressure. Provide hypothetical examples in which you effectively handled problems. Talk about your flexibility, resilience, and growth mentality. Emphasize your openness to seek advice and learn from your errors.
Question 4: "What transferable skills do you bring to this role?"
While you may lack direct experience, you most certainly have transferable abilities gained by volunteering, internships, schooling, or other activities. Emphasize communication, collaboration, time management, and organization abilities. Provide clear instances of your abilities in action.
Question 5: "How do you handle criticism or feedback?"
Employers look for applicants who can manage constructive criticism with grace. Demonstrate a positive approach towards feedback and explain how you use it to develop yourself. Showcase a growth-oriented attitude to personal and professional development and give examples of when feedback resulted in measurable change.
Question 6: "What are your long-term career goals?"
Outline your professional vision and ambitions to demonstrate your sense of direction. Express your passion for industry growth and advancement. Demonstrate your eagerness to study and develop new talents that are relevant to your long-term goals.
Question 7: "Tell me about a time when you worked in a team."
Describe a successful cooperation experience in which you worked well in a team. Highlight your abilities in communication, cooperation, and dispute resolution. Demonstrate your capacity to contribute to the success of a team and emphasize the value of teamwork in reaching common goals.
Question 8: "How do you prioritize tasks and manage your time effectively?"
Explain how you manage your time, such as by making to-do lists or utilizing prioritization frameworks. Discuss your organizational abilities as well as your capacity to fulfill deadlines. Give an example of a moment when good time management made a big difference in the outcome.
Question 9: "What are your salary expectations?"
When faced with this topic, it is critical to conduct research and set reasonable expectations. If you are unsure, state that you are willing to negotiate salary depending on work duties and total compensation package. Instead than discussing a precise figure, concentrate on demonstrating your worth.
Bonus Interview Tips For Freshers:
Here are some bonus tips and interview techniques to help you ace the interview as a fresher: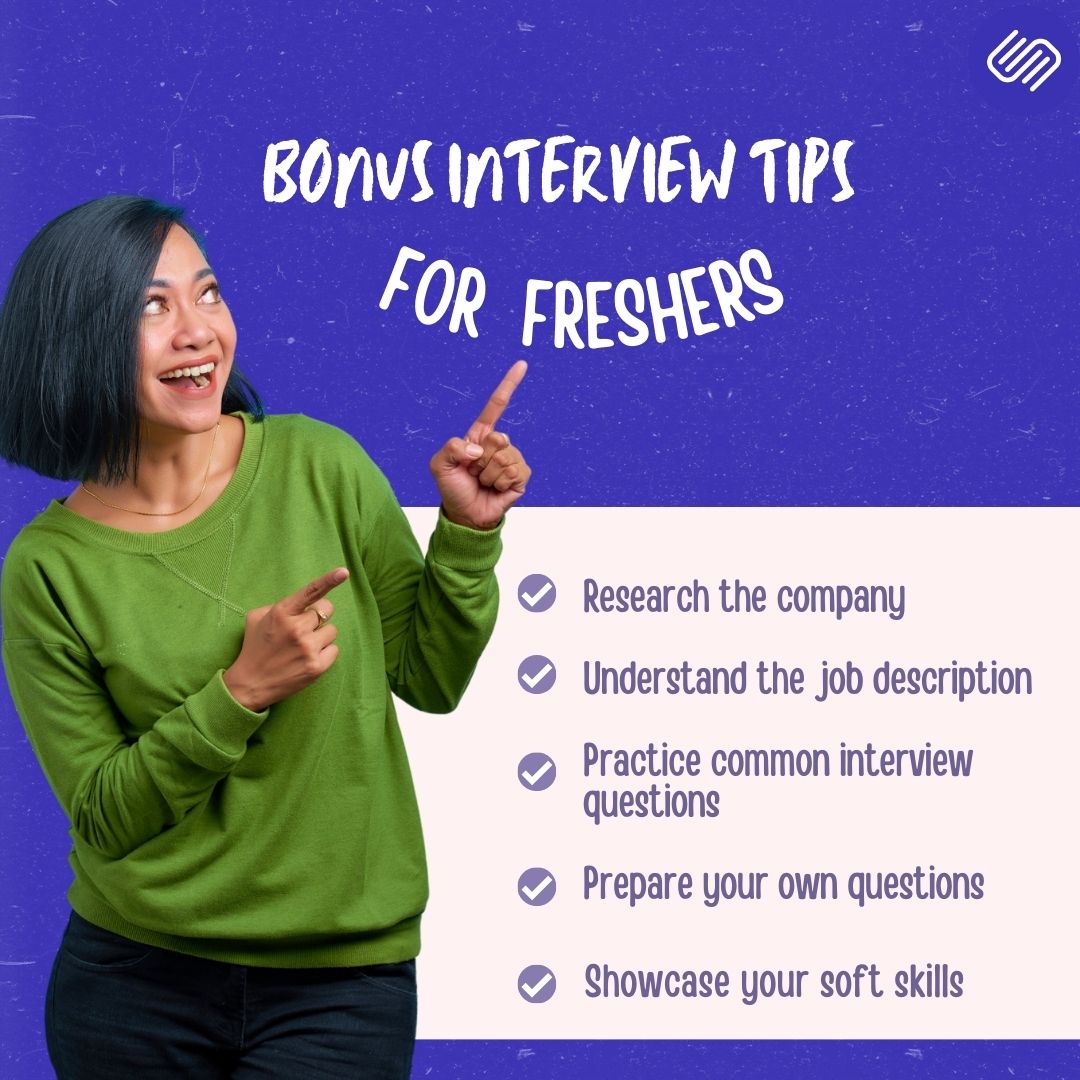 1. Research the company
Take the time to properly investigate the firm with whom you are interviewing. Learn about their mission, beliefs, goods or services, and any current news or developments. This understanding will display your genuine interest and allow you to personalize your replies to their objectives.
2. Understand the job description
Examine the job description carefully and discover the relevant skills and qualities they require. Prepare relevant examples from your experiences or education that demonstrate your suitability for the position. Prepare to discuss how your expertise can help the organization succeed.
3. Practice common interview questions
Prepare for popular interview questions like "Tell me about yourself," "Why should we hire you?" and "What are your strengths and weaknesses?" Practice answering these questions to ensure you can respond effectively and concisely.
4. Prepare your own questions
You will most likely be given the option to ask questions at the end of the interview. Prepare a few insightful questions ahead of time to demonstrate your interest and participation. Inquiring about the corporate culture, career growth prospects, or specific projects you'll be working on will help you make a good first impression.
5. Showcase your soft skills
Employers appreciate soft skills such as communication, teamwork, problem-solving, and flexibility in addition to technical talents. Prepare examples of how you've displayed these abilities and be prepared to discuss them during the interview. Showcase times when you worked well with others or overcame obstacles.
Remember that confidence, preparedness, and a positive attitude are essential for succeeding in your interview. Best wishes!
You can also read a few other common interview questions here.
Conclusion
For candidates with little experience, interviews might be scary, but with extensive preparation and practice, you can thrive. Remember to do your homework on the firm, practice your replies, and emphasize your transferrable talents, excitement, and development attitude. By mastering these commonly asked questions, you'll increase your chances of impressing interviewers and landing the job of your dreams. Good luck!
Frequently Asked Questions
Excellent question! Even if you have no prior employment experience, you may still impress the interviewer. Highlight your applicable talents, education, and any extracurricular or volunteer activities that reflect your ability and interest. Use this time to demonstrate your enthusiasm, desire, and readiness to learn, and don't forget to include any personal accomplishments or distinguishing characteristics that set you apart!
Don't be concerned; everyone has flaws! This question is intended to assess your self-awareness and desire to improve. Instead of emphasizing on your lack of experience, take advantage of this opportunity to explain a talent or area in which you are actively attempting to improve. For example, you may describe how you've been actively developing that ability by taking online courses, attending seminars, or seeking mentoring. This demonstrates your commitment to growth and learning, which employers highly value.
Your potential is not entirely determined by your previous job experience! Employers frequently want flexibility, problem-solving abilities, collaboration, and a strong work ethic. Include any related projects, coursework, or group activities that demonstrate these abilities. Highlight your capacity to learn fast, your readiness to take on challenges, and your excitement for the sector or profession for which you are applying. Employers are frequently interested in your potential and attitude, so let your enthusiasm and desire shine!